Perdido Grande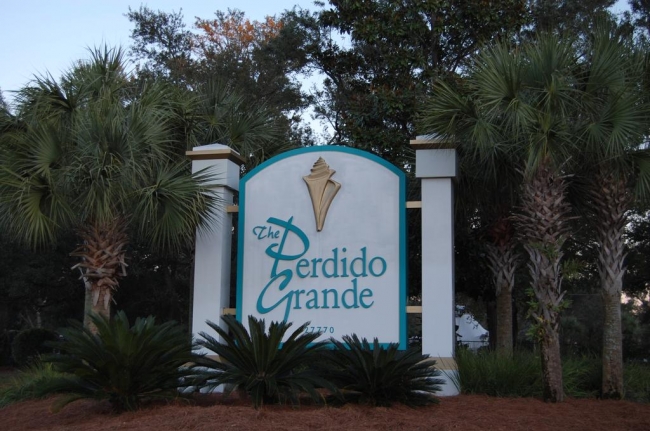 Perdido Grande Orange Beach AL Condominium Sign


27770 Canal Road
Orange Beach,
Alabama
36561
Price Range: $350,000 - $550,000
Sq Ft Range: 1,700 - 2,300 sq ft
Age: Built in 1999
Bedroom Units: 3,4
Boat Facilities: Yes
Exercise Facility: Yes
Indoor Pool: Yes
Outdoor Pool: Yes
Tennis: Yes
Waterfront: Bay Front
Boaters looking for a great vantage point in Orange Beach will want to look at Perdido Grande. The 90-unit complex, which includes boat slips on Terry Cove, rests directly north from Perdido Pass and has outstanding views of Terry Cove, Robinson Island, and the entrance to the Gulf of Mexico. Built in 1999, the two-building, 5-story buildings feature both spacious three-bedroom and four-bedroom units that range in size from 1,700 square feet to 2,300 square feet. Regardless of three- or four-bedrooms, each has three bathrooms and bathrooms off the master bedroom include a Jacuzzi tub. A sizable kitchen is included in the open floor plan and it may have granite countertops depending on renovation projects. The units also have a wet bar. The location of a Perdido Grande condo dictates whether the private balcony looks out to Terry Cove, other Perdido Grande units, or the neighboring condos. A pair of elevators serves the building.
Some boat slips, which are directly opposite Perdido Pass, are assigned to units and a fishing pier is also available. An outdoor pool with water jets faces Terry Cove and an indoor pool with water jets and hot tub are also available. Other amenities at this nicely landscaped facility include a barbecue area, tennis court, meeting room, exercise room, sauna, and club house. A gated entrance leads to an uncovered lot that includes assigned parking. To the west of Perdido Grande is Phoenix On The Bay II and to the east is The Moorings condominium complex.