Vista Bella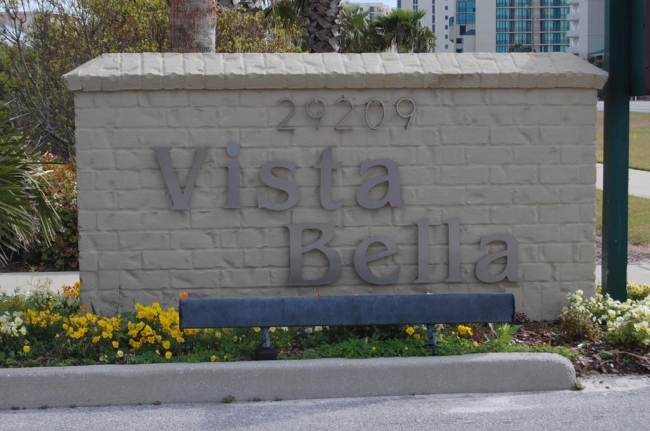 Vista Bella Orange Beach AL Condo Sign


29209 Perdido Beach Blvd
Orange Beach,
Alabama
36561
Price Range: $400,000 - $600,000
Sq Ft Range: 2,200 - 2,600 sq ft
Age: Built in 2007
Bedroom Units: 3,4
Boat Facilities: Yes
Exercise Facility: Yes
Indoor Pool: Yes
Outdoor Pool: Yes
Waterfront: River Front
Come Experience Life at Vista Bella
This upscale condominium complex looks out onto Ole River and, depending how high you are in the 14-story building, other natural features in the area. Vista Bella, built in 2006, is made up of large three-bedroom and four bedroom units ranging in size from 2,200 square feet to 2,600 square feet. Each of the 50 condos have at least three bathrooms and those off the master bedroom have a jetted tub. The large kitchens include granite countertops and an island for additional eating space. Other interior features include a wet bar, floor-to-ceiling windows in the Ole River-facing living room that look out onto Ole River. Each condo has a pair of private balconies, one accessed from the living room and another from the master bedroom with mostly unobstructed views of the Gulf of Mexico. Wifi is available as is an elevator and space for a washer and dryer.
An outdoor pool on the small side faces Ole River and an indoor pool with hot tub is also available. Other amenities include a fitness room, community room, covered entry, fishing pier and boat slips with lifts. Uncovered and covered parking is available in the landscaped parking lot. Vista Bella is half of a mile from the Florida border. The condominium complex is a little more than two miles from the upscale shops and restaurants at San Roc Marina. To the east is Legacy Key and to the west, two properties away, is Jubilee Landing.
---
Orange Beach Real Estate Resources