Jubilee Landing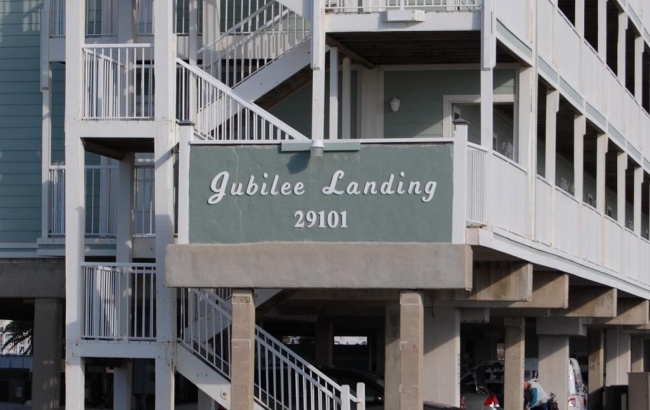 Jubilee Landing Orange Beach AL Condo Sign


29101 Perdido Beach Blvd
Orange Beach,
Alabama
36561
Price Range: $200,000 - $250,000
Sq Ft Range: 600 - 1,200 sq ft
Age: Built in 1985
Bedroom Units: 1,2,3
Boat Facilities: Yes
Outdoor Pool: Yes
Waterfront: River Front
Boaters are the target market for this 33-unit condo complex on the shores of Ole River. A limited number of dock space is available on a first-come, first-served basis and boaters must obtain a permit. Also, parking is available for boat trailers and there are privately owned covered stalls. The three-story Jubilee Landing, built in 1985, features one-bedroom, two bedroom, and three-bedroom units that are approximately 600 square feet, 1,000 square feet, 1,100 square feet respectively. Kitchens are modest in size but contain all the modern features one would expect. Each unit has its own storage locker and the balconies are oversized and allow for magnificent sunset views as well as a chance to spot wildlife, including dolphins, and makes a great fishing spot.
The complex includes a fenced-in, outdoor pool that looks out onto Ole River. This is a great vantage point to enjoy the expansive land and seascape that can be seen from Jubilee Landing, which includes views of Robinson Island, Terry Cove, and Perdido Pass. The private boat slips include water and power. The complex also has a barbecue area, fishing pier, a gazebo, and covered entry. Limited views of the Gulf of Mexico can be seen from Jubilee Landing as well. The complex is about a 5 minute walk from the sugar sand beaches and a boat ramp is nearby. Jubilee Landing is surrounded on both sides by open land and the nearest developments include single-family homes to the east and The Yachtsman condo complex to the west.
---
Orange Beach Real Estate Resources