The Yachtsman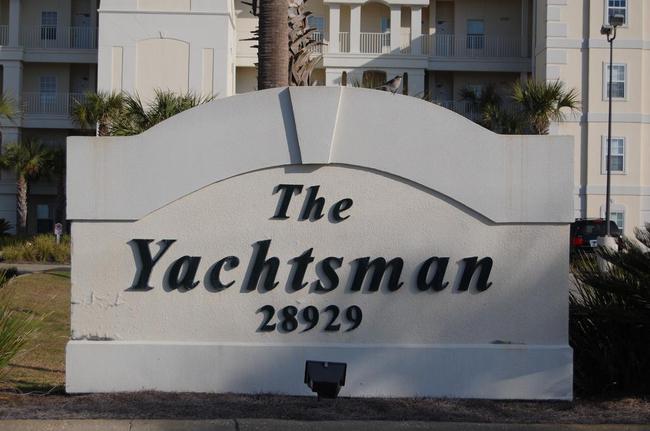 The Yachtsman Orange Beach AL Condo Sign


28929 Perdido Beach Blvd
Orange Beach,
Alabama
36561
Price Range: $275,000 - $350,000
Sq Ft Range: 1,500 - 2,000 sq ft
Age: Built in 2000
Bedroom Units: 3,4
Boat Facilities: Yes
Outdoor Pool: Yes
Waterfront: River Front
Come Experience Life at The Yachtsman
Located on a thin slice of Orange Beach gives The Yachtsman an advantage – great views of Ole River and the Gulf of Mexico. The four-story condominium complex, built in 2000, sits on the edge of Ole River and is only a stone's throw from the Gulf of Mexico across the street. There are 28 three-bedroom and four-bedroom units ranging in size from 1,500 square feet to 2,000 square feet in the four-story building. The modest kitchens have granite countertops and condos have at least three bathrooms. Private balconies look out onto Ole River and are accessed from the living room and master bedroom.
An outdoor pool and sundeck face Ole River. Boat slips with lifts are available and water is also accessible. The Yachtsman is located a little more than a mile from Perdido Pass, allowing relatively easy access to the Gulf of Mexico. There is landscaping throughout, including in the uncovered parking lot. The condominium complex is less than a mile from the Florida state line and a little less than 10 miles from the intersection with Highway 59, known locally as the "T." Directly to the east of The Yachtsman is open land and the nearest building in that direction is Jubilee Landing. To the west is Riverchase.
---
Orange Beach Real Estate Resources