Seaside Beach & Racquet Club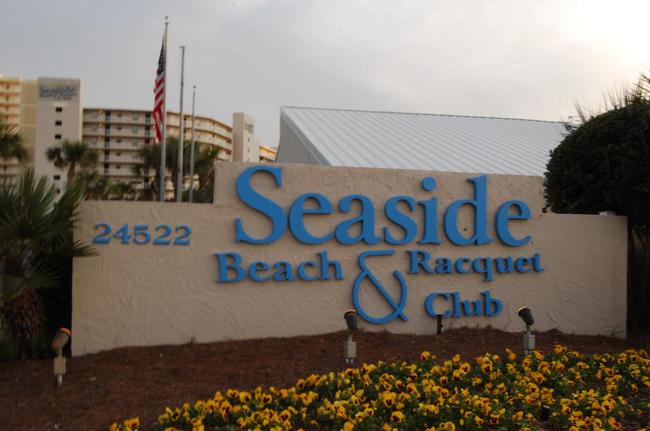 Seaside Beach & Racquet Orange Beach AL Condo Sign


24522 Perdido Beach Blvd
Orange Beach,
Alabama
36561
Price Range: $125,000 - $300,000
Sq Ft Range: 600 - 1,500 sq ft
Age: Built in 1985
Bedroom Units: 1,2,3
Boat Facilities: No
Exercise Facility: Yes
Indoor Pool: Yes
Outdoor Pool: Yes
Tennis: Yes
Waterfront: Gulf Front
Come Experience Life at Seaside Beach & Racquet Club
The name says it all -- it's a beachside condominium complex with tennis courts. Built in 1985, Seaside Beach & Racquet Club is made up of two buildings including an "L"-shaped, 8-story tower along the beach and a set of condos surrounding the two outdoor tennis courts. One-bedroom, two-bedroom, and three-bedroom condos range in size from 600 square feet to 1,500 square feet. There are a pair of bathrooms in the two-bedroom and three-bedroom units and each of the one-bedroom units has a single bathroom. Comfortably-sized kitchens may or may not have granite countertops depending on renovation efforts. Beachside condos have private balconies with views of the Gulf of Mexico while courtside condos have balconies with limited views of the beach.
Two outdoor pools face the beach and are located along the sides of the tower complex. In addition, there are landscaped areas fenced in from the neighboring tower of condominiums to the east. Other outdoor amenities include a pair of hardcourt tennis courts, a barbecue area, an outdoor shower, and a boardwalk to the beach. Indoors is a heated pool, sauna, fitness room, and steam room. Parking in the gated, landscaped lot is limited to two cars per unit. The Seaside Beach & Racquet Club is a little more than five miles from Highway 59 and nearly 5.5 miles from the Florida border. To the east is Tradewinds and directly to the west is beach parking. The nearest condominium complex to the west is Phoenix V, located two properties away.
---
Gulf Shores Real Estate Resources