Phoenix VII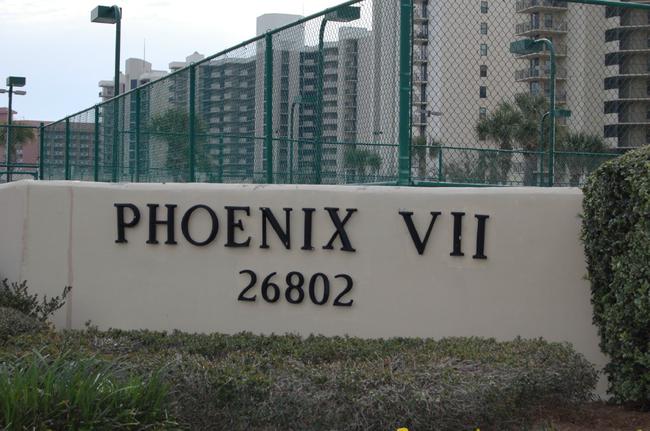 Phoenix VII Orange Beach Condo Sign


26802 Perdido Beach Blvd
Orange Beach,
Alabama
36561
Price Range: $225,000 - $425,000
Sq Ft Range: 800 - 1,500 sq ft
Age: Built in 1999
Bedroom Units: 1,2,3
Boat Facilities: No
Exercise Facility: Yes
Indoor Pool: Yes
Layout: 247 Total Units in 14 Stories
Outdoor Pool: Yes
Tennis: Yes
Waterfront: Gulf Front
Come Experience Life at Phoenix VII
This is one of many Phoenix-branded condo complexes on the Gulf of Mexico and one of five in this particular area of Alabama Point Beach. Phoenix VII contains one-bedroom, two-bedroom, and three-bedroom units that range in size from 800 square feet to 1,500 square feet in size. One-bedroom units have a single bathroom while larger units have a pair of bathrooms. Each of the 247 units in this 14-story complex, built in 1999, has balconies looking out onto the beautiful sugar-sand beaches of the Gulf of Mexico. Three-bedroom units have an additional balcony off the master bedroom on the north side. Kitchens may have granite countertops, depending on renovations, and floor-to-ceiling windows in the living room offer fantastic beach views. Washer/dryer hookups are available as is on-site staff and security. Each room has wifi and an Internet connection is available in the lobbies.
The outdoor pool includes a bridge over the water leading to a boardwalk bound for the beach. A kiddie pool, barbecue grills, and gazebos are also available. Inside are hot tubs, saunas, racquetball, and a fitness room. In front of the building are two lighted tennis courts, half-court basketball court, and limited parking. There is a one-car limit for single-bedroom units while larger units have a two-car limit. Phoenix VI is nearby convenience shopping and a walk down the road to the San Roc Cay shopping center. To the east of this complex is Phoenix VIII and to the west is Phoenix VI.
---
Orange Beach Real Estate Resources