Gulf Shores Surf & Racquet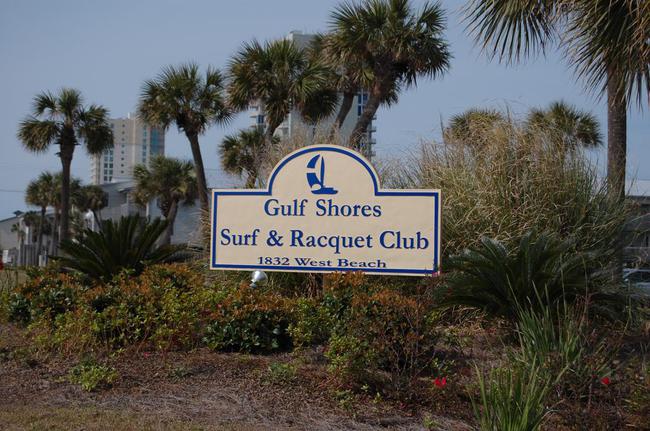 Gulf Shores Surf and Racquet Condo Sign


1848 West Beach Blvd
Gulf Shores,
Alabama
36542
Price Range: $125,000 - $225,000
Sq Ft Range: 500 - 700 sq ft
Age: Built in 1987
Bedroom Units: 1,2
Boat Facilities: Yes
Outdoor Pool: Yes
Tennis: Yes
Condo Living on Little Lagoon
If access to lots of water is an important part of your Gulf Shore adventure then the condominiums at Gulf Shores Surf and Racquet Club may be the right choice. The three-building complex, built in 1985, sits on "sliver land" directly on Little Lagoon and a short trip across the street to the wonderful Gulf of Mexico. There are both one-bedroom and two-bedroom condos in the well-manicured, 179-unit complex. One bathroom can be found in the one-bedroom units, which are about 800 square feet, and either one or two bathrooms in the two-bedroom units, which are just over a 1,000 square feet. Also, some of the two bedroom units are listed as deluxe units. Private balconies provide views of Little Lagoon and there also balconies facing the Gulf as well. All units are individually owned and the complex includes a high-speed elevator.
---
Do You Own a Gulf Shores Surf & Racquet Condo?
---
Gulf Shores Surf & Racquet Amenities
Gulf Shores Surf and Racquet Club offers guests many amenities, more than other area condominium complexes. An exceptionally-manicured common area includes a pool, a gated baby pool, hot tub, two grilling areas and maintained tennis courts with controllable lighting. Free wifi is available in all common areas. Boat slips are available on the lagoon as well as a boat launch. There are also two lighted piers that provide exceptional fishing opportunities. Across West Beach Boulevard is a boardwalk leading to a deeded private Gulf beach. There is plenty of parking at the complex and boating trailers are encouraged. The complex is fairly close to a number of restaurants and grocery options, and is located a little more than three miles from State Highway 59. The complex is bordered by private vacation condos to the east and Sea Oats condominium complex to the west. The Racquet Club is served by Gulf Shores municipal services.
---
Gulf Shores Real Estate Resources