Surfside Shores I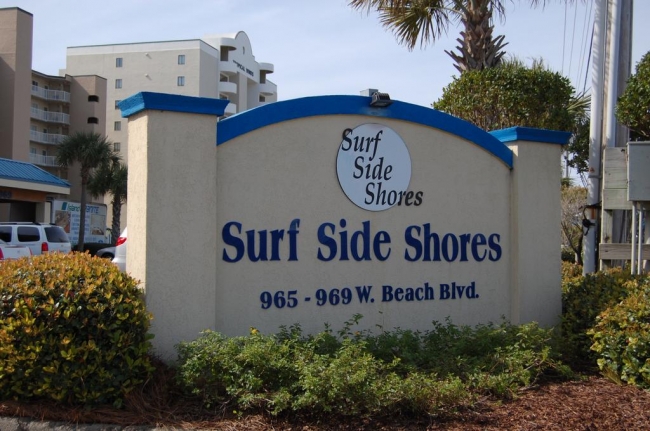 Surfside Shores 1 Gulf Shores AL Condo Sign


969 West Beach Blvd
Gulf Shores,
Alabama
36542
Price Range: $250,000 - $300,000
Sq Ft Range: 700 - 1,100 sq ft
Age: Built in 1994
Bedroom Units: 2,3
Boat Facilities: No
Outdoor Pool: Yes
Waterfront: Gulf Front
Come Experience Life at Surfside Shores I
If you seek a familiar and pleasant Gulf Shores condo experience, Surfside Shores 1 is probably what you had in mind. It's tall, on a spacious beach, and not too far from amazing restaurants and shopping. This condominium complex, built in 1994, has a mix of 63 two-bedroom and three-bedroom units ranging in size from 700 square feet to 1,100 square feet. Each has the same number of bathrooms as bedrooms. Units are standard in design with a kitchen opening into a dining and living room area. A private balcony looks out onto the Gulf of Mexico and master bedrooms may also have a private balcony looking to the east or west. All units in the nine-story building include a view of Little Lagoon, the higher the location the better the view. Kitchens were not originally fitted with granite countertops but may have them depending on renovation efforts. Room for a washer and dryer are available and the building is served by an elevator and covered entryway.
Facing the gulf are a hot tub and pool. A boardwalk leads to the sugar-sand beach and other amenities include a sizeable sun deck and barbecue area. Limited parking is available in the uncovered, landscaped lot. Surfside Shores 1 is located a little more than a mile from the intersection with Highway 59, also known as the "T." There you can find several restaurants and retail locations including, the popular, The Hangout. Located to the east of this condominium complex is the Edgewater condos and to the east is its sister complex, Surfside Shores 2.
---
Gulf Shores Real Estate Resources