Sea Scape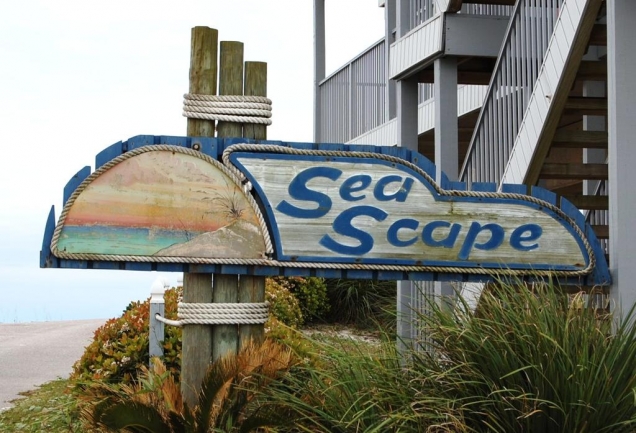 Sea Scape Orange Beach AL Condo Sign


24649 Cross Lane
Orange Beach,
Alabama
36561
Price Range: $175,000 - $200,000
Sq Ft Range: 900 - 1,600 sq ft
Age: Built in 1986
Bedroom Units: 2,3
Boat Facilities: No
Outdoor Pool: Yes
Waterfront: Gulf Front
Come Experience Life at Sea Scape
This low-rise condominium complex is gulf front/beach-side, but separated from the sugar-sand beaches of the Gulf of Mexico only by a single-lane road and few vacation homes. It is also a smaller structure compared to the several high-rise tower condo complexes it has as neighbors. Sea Scape is separated from the main road, located behind the complex, by a souvenir shop. This condominium complex is made up of two-bedroom and three-bedroom units that range in size from about 900 square feet to 1,500 square feet. Condos on the top of the three-floor building include a loft area. Modestly-sized kitchens were not originally built with granite countertops though may have them depending on renovation efforts. Wrap-around balconies are oversized and face the beach. They are accessed from two doors in the living room as well as the master bedroom. The complex is served by an elevator and stairways.
An outdoor pool faces the street-side of the complex and a barbecue area with gazebo is available on the beach-side of the building. A boardwalk to the beach is accessed from the barbecue area and runs between two single-family homes. Covered parking is available and there's a two-car maximum per unit. Sea Scape is nearby a number of area attractions and restaurants including Fat Daddy's Arcade and Bubba's Seafood House. The condominium complex is nearly 5.5 miles from Highway 59. To the east is the Holiday Inn Express at Orange Beach and directly to the west are single-family homes. The nearest condo tower to the west is three properties away, the 14-story Tradewinds.
---
Gulf Shores Real Estate Resources