Opal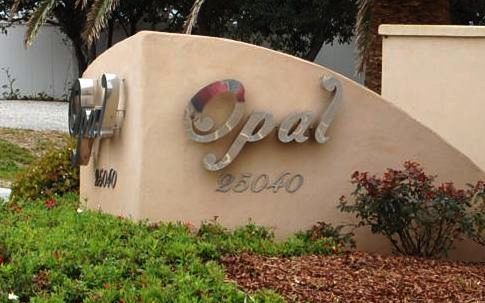 Opal Orange Beach AL Condominium Community Sign


25040 Perdido Beach Blvd
Orange Beach,
Alabama
36561
Price Range: $1,500,000 - $2,200,000
Sq Ft Range: 4,330 - 4,330 sq ft
Age: Built in 2007
Bedroom Units: 4
Indoor Pool: Yes
Outdoor Pool: Yes
Waterfront: Gulf Front
Come Explore Life in Opal
If the ideal condominium on the shores of the Gulf of Mexico is on the high end of luxury, Opal is what you seek. This 13-floor condominium complex, built in 2007, is one of three facilities in the area with a single unit per story and these units are exceptional compared to its peers. Opal contains 12 five-bedroom units that each have five and a half bathrooms. They are spacious with 4,330 square feet. An elevator delivers you to a foyer that invites you to an open-floor plan, floor-to-ceiling windows looking on to the Gulf of Mexico, Poggenpohl cabinetry, natural stone floors, two gas fireplaces, custom closets, and superb entertainment features. Nearly 1,000 square feet of wrap-around porches per unit offer views of the Gulf as well as Ole River and Ono Island.

A heated indoor pool is available as well as a hot tub. An outdoor, zero-entry pool wraps around the east side of the building from Gulf-facing side of the complex and the pool area includes a deck that leads to a pathway to the sugar-sands of the Gulf of Mexico. Opal also includes a fitness room as well as garages and some uncovered parking in its gated parking lot. The luxury complex is about 2.5 miles from Perdido Pass and about six miles from State Highway 59. To the east of Opal is open land and single-family homes. To the west is the two-building, 15-story Summer House.
---
Orange Beach Real Estate Resources