Mariner Pass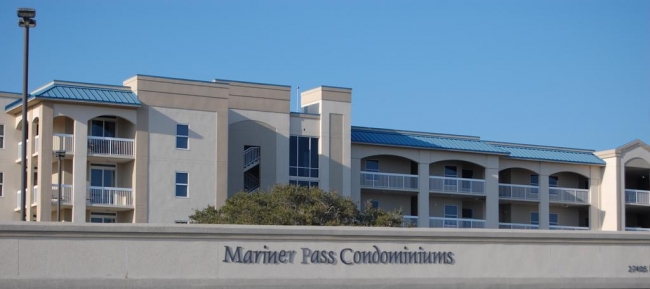 Mariner Pass Orange Beach AL Condominium Community Sign


27405 Polaris Drive
Orange Beach,
Alabama
36561
Price Range: $300,000 - $450,000
Sq Ft Range: 1,300 - 2,200 sq ft
Age: Built in 2005
Bedroom Units: 3,4
Boat Facilities: Yes
Exercise Facility: Yes
Indoor Pool: Yes
Layout: 59 Total Units in 5 Stories
Outdoor Pool: Yes
Waterfront: Bay Front
Quick access to the Gulf of Mexico from the safety of a bayou. That's what Mariner Pass offers boaters in addition to the amenities required to make a second home feel very comfortable. This complex, built in 2005, sits on the shores of Cotton Bayou and is little more than a stone's throw from Perdido Pass. Mariner Pass includes a mix of three-bedroom and four-bedroom units among its 59 units. All 3-bedroom units in the five-story complex have two bathrooms and are 1,300 square feet or larger. Four-bedroom condos have four bathrooms and are up to 2,200 square feet. Bathrooms off the master bedroom include a Jacuzzi tub while kitchens are sizeable and have granite countertops. Private balconies from the living room face Ole River and are a fantastic place to take in an Orange Beach sunset.

Mariner Pass has several boat slips off its pier, which is a great place for fishing. Boat slips may or may not be included with the condo. There are two moderately-sized pools, one indoor and another facing Ole River on the outside. In addition, there is a hot tub, fitness room, and sauna. There's a daily fee for parking in the deck adjacent to the complex and RVs and boat trailers are prohibited. To the east of Mariner Pass is The Pass condominiums and to the west is the Porto Del Sol condominium complex.
---
Orange Beach Real Estate Resources