Gulfside Townehomes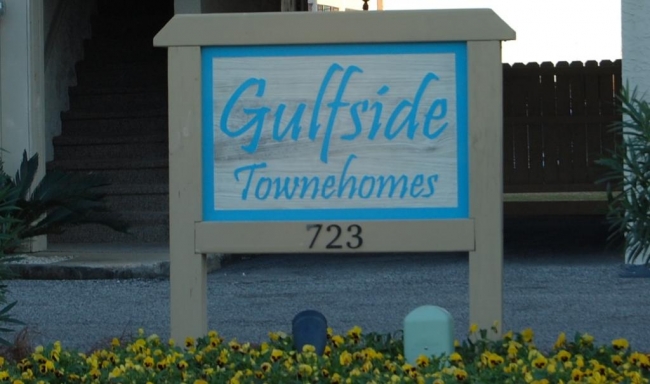 Gulfside Townhomes Gulf Shores AL Community


723 West Beach Blvd
Gulf Shores,
Alabama
36542
Price Range: $175,000 - $275,000
Sq Ft Range: 1,000 - 1,200 sq ft
Age: Built in 1981
Bedroom Units: 2
Boat Facilities: No
Outdoor Pool: Yes
Waterfront: Gulf Front
A Prime Location in Gulf Shores
When developers of Gulf Shores first envisioned a vacation destination, they probably had Gulfside Townehomes in mind. This complex was created in 1981, during the transformation of the area from fishing village to tourist attraction. The complex is a rare two-story condominium on the Gulf of Mexico that offers a more intimate setting to get a little rest and relaxation. The 40 units wrap around a courtyard and there are no condos located directly on the shore. However, there are four units that face the Gulf at the far end of the complex. Units are approximately 1,150 square feet and have 2 bedrooms and 2.5 bathrooms. There are two balconies for each unit, accessible from the living room and the master bedroom. Kitchens are a little small but have space for all the modern appliances you would expect. There are also washer/dryer hook-ups.
One of the perks of Gulfside Townehomes is its location, away from any high-rise condominium complexes, which allows for less congested beach time. This advantage may not last long since there is a high-rise condominium complex under construction two doors to the west. The courtyard has a community pool you might find at a larger condominium facility and there is also lounging areas in its well-maintained landscaping. Covered parking is available for two cars and there is a charge of $12 a day for visitor parking. Gulfside Townehomes is less than a mile from State Highway 59 and is nearby a number of area restaurants and shopping options. The complex is located next to a public parking area to the east and accesses Gulf beaches. Next to the parking lot is the six-story Buena Vista condominium complex and directly to the west of Gulfside Townehomes is a development of two-story vacation homes.
---
Do You Own a Gulfside Townehomes Property?
---
Gulf Shores Real Estate Resources