Escapes! To the Shores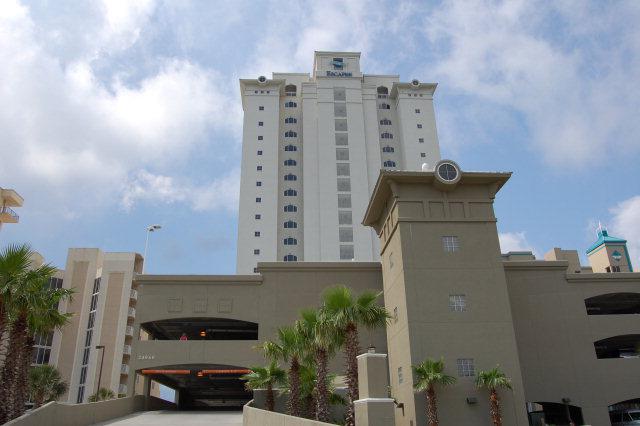 Escapes! To The Shores Orange Beach Condo Building


24060 Perdido Beach Blvd
Orange Beach,
Alabama
36561
Price Range: $400,000 - $700,000
Sq Ft Range: 600 - 2,400 sq ft
Age: Built in 2008
Bedroom Units: 1,2,3,4
Exercise Facility: Yes
Indoor Pool: Yes
Outdoor Pool: Yes
Waterfront: Gulf Front
Resort Style Condo Living at Escapes!
Escapes! aims to treat visitors like guests at a luxurious resort rather than owners of a beach condo. The 18-story condominium complex is a mix of two-, three- and four-bedroom units overlooking the gorgeous sand of Romar Beach Area, each with its fair share of plush amenities. The entrance of the complex sets the stage right off the bat with manicured landscaping, fountains and mature palms that give Escapes! an upscale feel. Because the units have many different floor plans, the ratio of bathrooms to bedrooms varies per unit. Three-bedroom units are about 2300 square feet while two bedroom condos are about 1700 square feet. There are also balconies looking onto the Gulf as well as the complex's generous outdoor amenities from a zero-entry kiddy pool to a grilling area. Though most units are owned outright by individuals, getting a conventional mortgage in this complex is difficult to impossible because there are a limited number of timeshares within the building.
There are both indoor and outdoor pools, as well as a spa, steam room, and an exercise facility. Escapes! is also pet friendly! The boardwalk provides quick and easy access to sandy toes, and there is a play area for smaller visitors. A multi-level parking garage is located in the front of the building, and allows for ample space. Escapes! is located next to several condo towers in the Romar Beach Area within Orange Beach. Directly to the East of Escapes is Four Seasons, and to the West, you'll find Romar Place. The complex is nearby a number of attractions, from restaurants to shopping to the undisturbed lands of Gulf State Park. Also located nearby are the Hummingbird Ziplines across Lake Shelby. The complex is serviced by Orange Beach municipal services.
---
Do You Own an Escapes! To the Shores Condo?
---
Orange Beach Real Estate Resources